Injections Procedures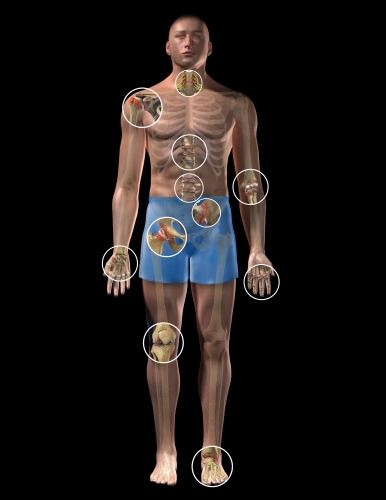 Injections comprise another nonsurgical treatment option for pain. They are typically considered as an option to treat joint pain after a course of medications and/or physical therapy is completed, but before surgery is considered. Injections can be useful both for providing pain relief and as a diagnostic tool to help identify the source of the patient's pain.
How Injections Relieve Back Pain?
For pain relief, injections can be more effective than an oral medication because they deliver medication directly to the anatomic location that is generating the pain. Typically, a steroid medication is injected to deliver a powerful anti-inflammatory solution directly to the area that is the source of pain. Depending on the type of injection, some forms of low back pain relief may be long lasting and some may be only temporary.
Trigger Point Injections:
Trigger point injection (TPI) may be an option for treating pain in some patients. TPI is a procedure used to treat painful areas of muscle that contain trigger points, or knots of muscle that form when muscles do not relax. Many times, such knots can be felt under the skin. Trigger points may irritate the nerves around them and cause referred pain, or pain that is felt in another part of the body.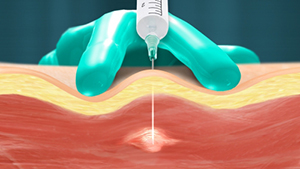 For the TPI procedure, a health care professional inserts a small needle into the patient's trigger point. The injection contains a local anesthetic or saline, and may include a corticosteroid. With the injection, the trigger point is made inactive and the pain is alleviated. Usually, a brief course of treatment will result in sustained relief.
Injections are given in a doctor's office and usually take just a few minutes. Several sites may be injected in one visit. If a patient has an allergy to a certain drug, a dry-needle technique (involving no medications) can be used.

Occipital nerve block:
An occipital nerve block is an injection of a steroid or other medication around the greater and lesser occipital nerves that are located on the back of the head just above the neck area. The steroid injected reduces the inflammation and swelling of tissue around the occipital nerves. This may in turn reduce pain, and other symptoms caused by inflammation or irritation of the nerves and surrounding structures. Typically, headaches over the back of the head, including certain types of tension headaches and migraine headaches, may respond to occipital nerve blocks.
Hip Joint injections
A hip joint injection is a procedure that involves injecting medicine into the joint located where the leg and the pelvis join. It may be beneficial for patients suffering from leg, hip, buttock or lower back pain that results from arthritis, mechanical stress or injury to the joint. A hip joint injection may be considered for patients with these symptoms. The injection can help relieve the pain, as well as help diagnose the direct cause of pain.  Hip joint injections involve injecting medicine directly into the joint. These injections can help diagnose the source of pain, as well as alleviate the discomfort:
Diagnostic function: By placing numbing medicine into the joint, the amount of immediate pain relief experienced will help confirm or deny the joint as a source of pain. If complete pain relief is achieved while the hip joint is numb it means this joint is likely to be the source of pain.
Pain relief function: Along with the numbing medication, time-release cortisone is also injected into these joints to reduce inflammation, which can often provide long term pain relief.
Knee injections-Viscosupplementation Treatment for Knee Arthritis: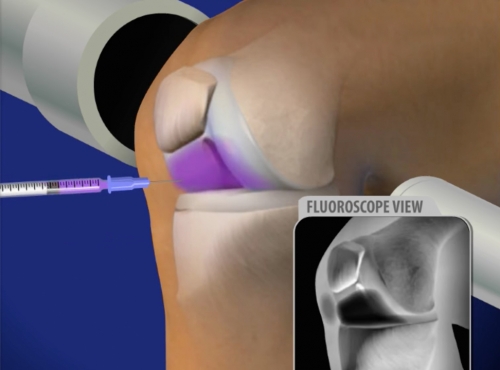 Osteoarthritis of the knee is one of the leading causes of disability in the United States. It develops slowly and the pain it causes worsens over time. Although there is no cure for osteoarthritis, there are many treatment options available to help people manage pain and stay active.
In its early stages, arthritis of the knee is treated with nonsurgical methods. Your doctor may recommend a range of treatments, including:
Changes in activity level
Weight loss
Pain relievers, such as acetaminophen or nonsteroidal anti-inflammatory drugs (NSAIDs) like ibuprofen
Physical therapy
Corticosteroid injections
Another treatment option is a procedure called viscosupplementation. If you have tried all other nonsurgical treatment methods and your pain continues to limit your activities, viscosupplementation may be an option.
In this procedure, a gel-like fluid called hyaluronic acid is injected into the knee joint. Hyaluronic acid is a naturally occurring substance found in the synovial fluid surrounding joints. It acts as a lubricant to enable bones to move smoothly over each other and as a shock absorber for joint loads. People with osteoarthritis have a lower-than-normal concentration of hyaluronic acid in their joints. The theory is that adding hyaluronic acid to the arthritic joint will facilitate movement and reduce pain.

Procedure:
Depending on the product used, you will receive one to five shots over several weeks. During the procedure, if there is any swelling in your knee, your doctor will remove (aspirate) the excess fluids before injecting the hyaluronic acid. Usually, the aspiration and the injection are done using only one needle injected into the joint, Some doctors may prefer to use two separate syringes. For the first 48 hours after the shot, you should avoid excessive weight bearing on the leg, such as standing for long periods, jogging or heavy lifting.
Side Effects:You may notice a local reaction, such as pain, warmth, and slight swelling immediately after the shot. These symptoms generally do not last long. You may want to apply an ice pack to help ease them.
Complications:Rarely, patients may develop a local allergy-like reaction in the knee. In these cases, the knee may become full of fluid, red, warm, and painful. If this occurs, contact your doctor immediately.
Infection and bleeding are also very rare complications of this procedure.
Shoulder injections: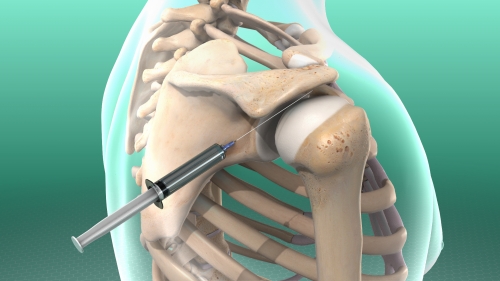 Cortisone injections make up a very important part of the treatment of shoulder injuries. In combination with an active rehabilitation program they are particularly useful in the management of:
Rotator cuff disease (degenerative tendonosis, impingement, partial tears and subacromial bursitis)
Adhesive capsulitis (or 'frozen shoulder')
Glenohumeral osteoarthritis
Acromioclavicular joint disease (osteoarthritis or osteolysis)
The cortisone injection is not just an analgesic or pain-killer. It works by reducing inflammation, and thus pain secondarily. As such it is treating the pathology, not just the pain. It is important that the injection is followed up with appropriate rehabilitation

Facet Joint Injections: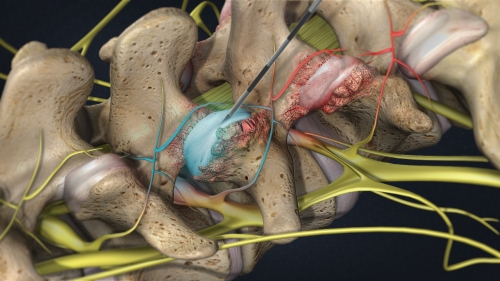 Facet joints are small joints at each segment of the spine that provide stability and help guide motion. The facet joints can become painful due to arthritis of the spine, a back injury, or mechanical stress to the back.
A cervical, thoracic or lumbar facet joint injection involves injecting a small amount of local anesthetic (numbing agent) and/or steroid medication, which can anesthetize the facet joints and block the pain. The pain relief from a facet joint injection is intended to help a patient better tolerate a physical therapy routine to rehabilitate his or her injury or back condition.
Facet joint injections usually have two goals: to help diagnose the cause and location of pain and also to provide pain relief:
Diagnostic goals: By placing numbing medicine into the facet joint, the amount of immediate pain relief experienced by the patient will help determine if the facet joint is a source of pain. If complete pain relief is achieved while the facet joint is numb, it means that joint is likely a source of pain.
Pain relief goals: Along with the numbing medication, a facet joint injection also includes injecting time-release steroid (cortisone) into the facet joint to reduce inflammation, which can sometimes provide longer-term pain relief.
The injection procedure may also be called a facet block, as its purpose is to block the pain.

Medial Branch Block Injections: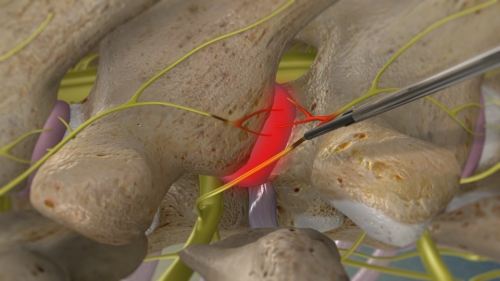 This injection procedure is used to diagnose back pain or neck pain from the nerves through the facet joints of the spine. Medial branch nerves are small nerves that feed out from the facet joints in the spine and carry pain signals from the facet joints to the brain.
The medial branch block is often used as part of a 2-step diagnostic and treatment approach:
Role of a Medial Branch Block
A medial branch nerve block is a procedure in which an anesthetic is injected near small medial nerves connected to a specific facet joint. Typically several levels of the spine are injected in one procedure. If the patient experiences marked pain relief immediately after the injection, then the facet joint is determined to be the source of the patient's pain.
The procedure is primarily diagnostic, meaning that if the patient has the appropriate duration of pain relief after the medial branch nerve block, then he or she may be a candidate for a subsequent procedure - called a medial branch radiofrequency neurotomy (or ablation) - for longer term pain relief.
Medial Branch Radiofrequency Neurotomy:
Radiofrequency ablation is a minimally invasive procedure that is usually performed with local anesthetic and mild sedation. As with many spinal injections, radiofrequency neurotomy is best performed under fluoroscopy (live x-ray) for guidance in properly targeting and placing the needle (and for avoiding nerve or other injury).
The neurotomy or ablation procedure includes the following steps:
An intravenous (IV) line is often started so that relaxation medicine (sedation) can be given.
The patient lies on a procedure table and the skin over the neck, mid-back, or low back is well cleaned.
The physician numbs a small area of skin with numbing medicine (anesthetic), which may sting for a few seconds.
The physician uses x-ray guidance (fluoroscopy) to direct a special (radiofrequency) needle alongside the medial or lateral branch nerves.
A small amount of electrical current is often carefully passed through the needle to assure it is next to the target nerve and a safe distance from other nerves. This current should briefly recreate the usual pain and cause a muscle twitch in the neck or back.
The targeted nerves will then be numbed to minimize pain while the lesion is being created.
The radiofrequency waves are introduced to heat the tip of the needle and a heat lesion is created on the nerve to disrupt the nerve's ability to send pain signals.
This process will be repeated for additional nerves
Epidural Injections: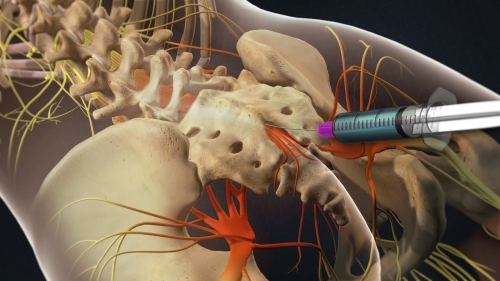 An epidural injection is effective in significantly reducing back pain and/or sciatica from spinal stenosis and other conditions. Epidural steroid injections (ESIs) are a common treatment option for many forms of low back pain and leg pain. They have been used for low back problems since 1952 and are still an integral part of the non-surgical management of sciatica and low back pain.
The goal of the injection is pain relief; at times the injection alone is sufficient to provide relief, but commonly an epidural steroid injection is used in combination with a comprehensive rehabilitation program to provide additional benefit. Most practitioners will agree that, while the effects of the injection tend to be temporary - providing relief from pain for one week up to one year - an epidural can be very beneficial for a patient during an acute episode of back and/or leg pain.
Importantly, an injection can provide sufficient pain relief to allow a patient to progress with a rehabilitative stretching and exercise program. If the initial injection is effective for a patient, he or she may have up to three in a one-year period.
In addition to the low back (the lumbar region), epidural steroid injections are used to ease pain experienced in the neck (cervical) region and in the mid spine (thoracic) region.

Sacroiliac Injections:
Sacroiliac joint injection is used either to diagnose or treat low back and/or leg pain associated with sacroiliac joint dysfunction. A sacroiliac (SI) joint injection-also called a sacroiliac joint block-is primarily used either to diagnose or treat low back pain and/or sciatica symptoms associated with sacroiliac joint dysfunction.
The purpose of a sacroiliac joint injection is two-fold: to diagnose the source of a patient's pain, and to provide therapeutic pain relief. At times, these are separated and a patient will undergo a purely diagnostic or therapeutic injection, although often the two are combined into one injection.
A diagnostic SI joint injection is used to confirm a suspected diagnosis of sacroiliac joint dysfunction. This is done by numbing the sacroiliac joint with local anesthetic (e.g. lidocaine). The injection is performed under fluoroscopy (X-ray guidance) for accuracy. Once the needle has entered the sacroiliac joint, contrast is injected into the joint to ensure proper needle placement and proper spread of medication. The numbing medication is then injected into the joint. After the numbing medication is injected, the patient is asked to try and reproduce the pain by performing normally painful activities. If the patient experiences 75-80% pain relief for the normal duration of the anesthetic, a tentative diagnosis of SI joint dysfunction is made.